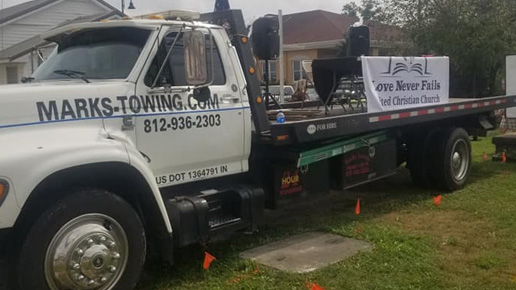 OUR ROADSIDE ASSISTANCE SERVICES
Are you having problems with your vehicle? At times, you may be able to handle them on your own, but in most cases, you will most definitely need the advice and help of an expert to get you out of that situation.
That's exactly where we at Mark's Towing Service come into play, and can help you avoid the stress of roadsides dramas with our 24/7 roadside assistance service.
Our highly skilled and experienced roadside assistance team is ready to lend a helping hand whenever needed. No matter where you are stranded, one phone call is all it takes to get you and your vehicle to an expert technician! Whether you are out of gas, or have a flat tire, we will reach your location as quickly as possible to minimize the downtime.
Our technicians will fix the problem on the spot and have you on your way in most situations. However, if the problem cannot be solved then and there, we will tow your vehicle to the nearest place for repair and safety till you are good to go.
You Can Count On Mark's Towing Service
Our team consists of professionals in the towing and roadside assistance industry who have years of experience helping hundreds of customers each week is a variety of unfortunate circumstances.
At Mark's Towing Service, we provide 24/7 roadside assistance around Springs Valley for the following.
Technical advice over the phone
Jumpstarting your battery, and if required, organizing a replacement
Location assistance if you have lost your way
Access to your vehicle if you are locked out
Fitting your spare wheel

Organizing a crack repair or windscreen chip
Delivery of fuel if you run out
Accident assistance
Urgent message relay to connect you to your family in the event of an accident or breakdown
Other minor emergency repairs
CONTACT US TODAY
From tire troubles and lockouts to flat batteries and empty fuel tanks, Mark's Towing Service will be there when you need us the most.
For more information about our emergency roadside assistance service, contact us at 812-936-2303.